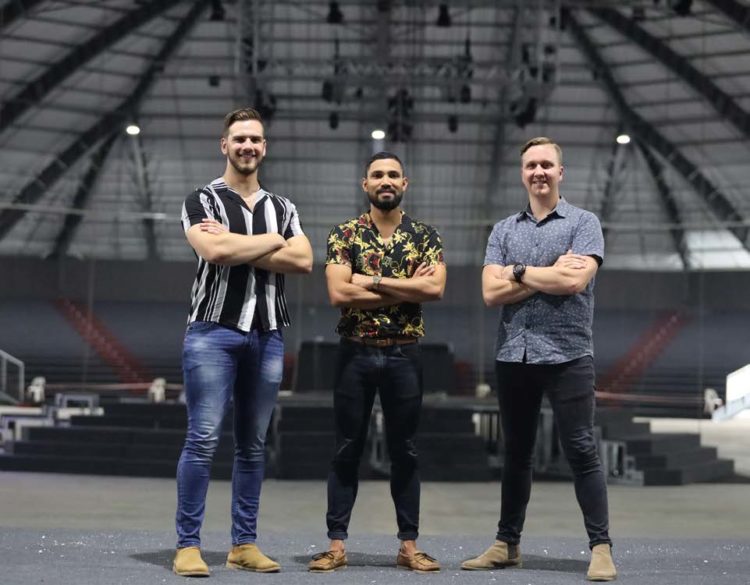 by JOSIAH MALAN
We often hear the word "legacy" being thrown out in conversation, but more often than not our understanding remains superficial. Legacy is something that impacts generations, cities, businesses, ministries, and families. A legacy is a powerful gift to leave behind, even more powerful than an inheritance. While an inheritance is something that could be spent and used up, legacy is a spiritual investment that continues to bear fruit long after the lifespan of a mere inheritance. At the time of passing on a legacy, it is the ceiling of one generation becoming the floor or foundation for the next generation to begin building on.
We have to get out of the cycle of the world, out of convenience, and out of our comfort zones. As humans and children of God we are unable to grow or move forward in our callings if we remain in our comfort zones. Take the apostle Peter as an example…he was in the comfort of a boat, in the safety of a vessel. But in order for Peter to go to the next level in His walk with God he had to take a step of faith towards the feet of Jesus and walk out his walk of faith. His walk of faith was outside the boat and on top of an ocean – with the waves all crashing around him. We have to realize that the waves crashing around us are the circumstances of life and it is up to us to shape our lives or be shaped by our lives. We have to shift our focus to the future. The Word says that "faith is now" and it is "the substance of things hoped for and the evidence of things not yet seen" (Hebrews 11:1). Faith is future, and we have to begin to realize that we are here to form a legacy by faith for the next generations that are to follow us.
My personal view on the concept of legacy is that firstly it is being faithful in the calling that God has put on your life. Your children will see that, and their callings will fall into place as you continue to show them the ways of the Lord.
I think of my father, Dr Waldo Malan. He is a first-generation minister who took a step into ministry in the year of 1998. He didn't know what the future held, but he knew what God had called him into. He made the change to his family, to the family name, and for generations to come. You look now, I am studying at a full-time bible college preparing to become a full-time minister and my sister is in ministry as well. My father has made a change that has impacted the family legacy forever. He is going to leave a legacy of worship and faithfulness within the ministry of his children. It is an honour to be faced with the opportunity to continue his legacy in the years to come.
In the charismatic circles of today we hear the term "mantle" used often. In the context of legacy, the taking on of the mantle is taking on the responsibilities or role that is passed from one generation to another. It is the duty of the next generation to take on the mantle, if it is the Lord's will, of the father or mother. In the case of ministry, it will be taking on the responsibilities or role in ministry of your parents, carrying on the work that they have started and being faithful to the call of God that has been placed on you.
Legacy is very close to the heart of God. We read in Proverbs that we are to train our children up in the way that they should, and they will never depart from it. This is legacy. This is the responsibility of parents with wise counsel to train up their children. Train them up in the Word and in the ways of God as their Father and they will never depart from that. They will never depart from the calling that has been placed on them. God would never start something and just leave it hanging; He is not a God who lies, a God who is lazy, nor a half-hearted or a half-job God. If God has started a ministry, since all ministries are His anyway, He will put people in place to take on the mantle and legacy of the leader…To carry on with the move of God and carry out the legacy of the leader, and ministry. God will use people who are likeminded and, more often than not, likeminded people are those of the next generation; the next in line in the family; and the sons or daughters of those who are leaving the legacy behind.
The responsibility of a legacy is immense – it is not one that should be taken for granted or simply 'in your stride'. When God gave a vision and the full vision has not yet been fulfilled and you are the one responsible for that legacy or mantle, the responsibility falls on you with that vision. It is the vision of God and should you become unfaithful or are not interested, God will move on to the next person. God is a God of vision and completion. He will fulfil the vision He has at any cost. We so often fall into the trap of thinking that God needs us, but in actual fact, that is a lie. God is the Alpha and Omega, the Beginning and the End. He is above all, He is limitless, and from Him all things exist. Having said that, of course God desires our participation in His plan through a loving relationship with Him!
Just think on the disciples on the boat; Jesus was walking on the water and they stopped Him. He was on a mission, He was walking, but they saw Him and met Him with an expectation. God will only meet us at the level of our expectation. If we are not expecting to carry out a legacy, leave a legacy, live by faith, or even take on a mantle, God will not give it to us. It is our responsibility to take on the mantle, choose to carry out the legacy, and then be faithful with every instruction we receive from the Holy Spirit.
My view on this and where I am in my walk with the Lord is that of great honour. I am honoured to have been brought up in a family of faith; in a family that desires to be in the perfect will of God at all times. Having a father who has been in full-time ministry, has made a major impact, has left and is leaving a continuous legacy behind, is daunting. I count it as an honour and a privilege to have been chosen to carry out his legacy and the legacy of the ministry alongside other mighty men of God. It is a legacy that will be carried out from generation to generation. As we are faithful with what we have now, what the Lord has revealed to us now, the Lord will continue to reveal more and more through the years to come. God will never reveal everything in one go, because then our human nature will kick in, we will just go out and do, and it will then require no faith. Faith is the only thing that pleases God. As I step into the call of full-time ministry and choose to carry on the legacy of this ministry and the legacy of my father, I will be doing so through a walk of faith and constant communion and fellowship with the Holy Spirit.
Never get overwhelmed, but rather see every opportunity as an opportunity to step out the boat and realize that faith and fear cannot coexist.
I am by no means alone in my views on the power of legacy. Brad Taberer, with his wife Jizanne, is the pastor and leader of KidZone, the children's ministry at River East London.
Brad's ministry calling is helping children live their God-given purpose through the Word of God at River; as well as assisting parents and guardians in raising their families within a household of faith to leave a legacy of faith for the future generations. By his own admission, the legacy he wishes to leave for his son, Samuel, (and future children) is the message of faith that has given life to his wife and himself. It is that message and legacy he wants to leave for his children and the generations to come. The greatest revelation he has learnt so far is: the life you live is the legacy you will leave.
Jade Narainasamy (Youth Pastor, Fully Persuaded Youth) agrees, and says that his legacy to his son is firmly based on Proverbs 13:22 – "A good man leaves an inheritance [of moral stability and goodness] to his children's children, and the wealth of the sinner [finds its way eventually] into the hands of the righteous, for whom it was laid up" (AMP). He believes that his own pursuit of God will leave a heritage and legacy of faith for his son Judah. This simply means that whatever we as children could not do and have, our own children will accomplish and possess. So, the process is simple… Jade says, "As (my wife and I) establish and equip Judah in the Word, it is our deepest desire to see him flourish and experience the fullness of God."
Niall Clur (Young Adults Pastor, Influence Young Adults) and his wife Tayla are passionate about seeing the next generation holistically equipped in the things of God. They believe that God has strategically positioned them for bringing revival to their city and beyond. For them, the future is alive with possibilities. Their hearts' desire is to have a global impact on everyone who desires to be used by God, and aim to accomplish this by using biblical, pragmatic truths to facilitate an environment for change. "You cannot experience true and lasting change apart from the Mighty Presence of God," they confidently declare.
Mark Batterson, in his book Double Blessing (Multnomah Publishers, 2019) writes:
"Legacy isn't measured by what we accomplish in our lifetimes. It's measured by our coaching tree, our mentoring chain. It's measured by the fruit that we grow on other people's trees. It's measured by the investments we make in others that are still earning compound interest twenty years later. It's measured by every blessing we bestow." (p.13)